Fig Balsamic Pork Tenderloin Sliders
By
Paula Deen
JUMP TO RECIPE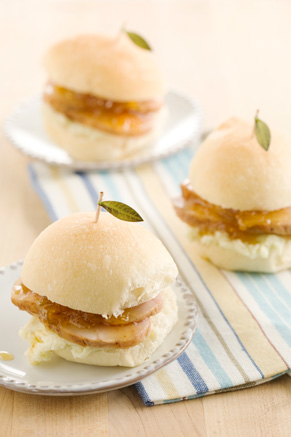 Difficulty: Easy
Prep time: 10 minutes
Cook time: 10 minutes
Servings: 10
Ingredients
1 (1 lb) pork tenderloin
1 cup Paula Deen Fig Balsamic Grilling Sauce
1/4 cup room temperature butter
1/4 cup blue cheese
1/2 cup (can sub any of your favorite jam) fig jam
slider buns
Directions
Preheat oven to 350º or preheat grill.
Brush tenderloin with grilling sauce and roast in a 350º oven for 28-30 minutes or internal temperature reaches 160º, or place on the grill for 8 minutes per side. Brush again with grilling sauce and allow to rest for 5 minutes before slicing.
In a small mixing bowl, stir together blue cheese and butter.
To assemble: Slice tenderloin into 1/4″ slices. Spread the bottom of a slider bun or roll with the blue cheese butter, top with two slices of tenderloin and finish with a dollop of fig jam. Place top of bun on the slider and secure with a decorative pick.