Easy King Cake
By
Paula Deen
JUMP TO RECIPE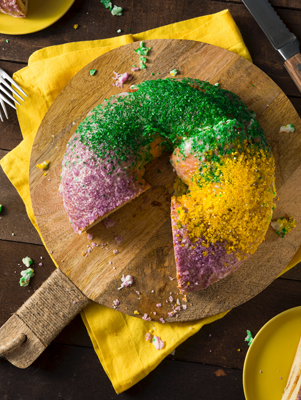 Difficulty: Easy
Prep time: 30 minutes
Cook time: 35 minutes
Servings: 8
Ingredients
King Cake
1 roll frozen bread dough, thawed
8 ounces cream cheese, softened
1½ cups powdered sugar
1 teaspoon ground cinnamon
¼ cup raisins
½ cup pecan halves
gold, purple, and green colored sugar, for decorating
Icing
3 cups confectioner's sugar
6 tablespoons milk, plus more, as needed
2 teaspoons vanilla extract
Directions
King Cake
On a floured surface, roll out the dough to roughly a 10″ x 18″ rectangle.
Mix together cream cheese, powdered sugar, cinnamon, raisins, and pecans. Spread the mixture over the dough to within an inch of each edge. Roll longways to create a long log and brush the edge with water before sealing it.
Shape the log into a circle, pressing the ends together and using water to seal the edges. Lightly spray the top with cooking spray, cover it with plastic wrap, and set it in a warm place (approximately 80˚F) to rise for 45 minutes to an hour.
Remove the plastic wrap and bake at 350˚F for 30-35 minutes. After cooling, drizzle the icing over the cake and top with colored sugar.
Paula's Tip #1: Let your oven warm and then turn it off. This makes for a great place to let your dough rise!
Paula's Tip #2: If you're putting the traditional baby or pea in the cake, find a discreet place to put it after it's been baked. Then make sure it's disguised with your decorations!
Icing
Mix the confectioners sugar, milk, and vanilla extract together. If it appears too thick, thin it out slowly by adding a little bit of milk at a time until it reaches your desired consistency.