Grilled Pineapple Pound Cake
By
Paula Deen
JUMP TO RECIPE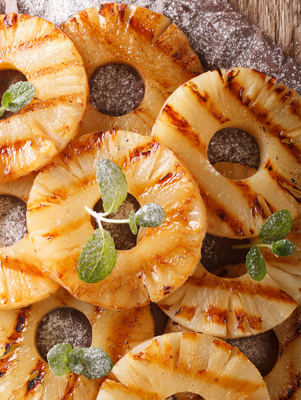 Difficulty: Easy
Prep time: 10 minutes
Cook time: 10 minutes
Servings: 10
Ingredients
1 (20 oz) can sliced pineapple
1 tablespoons butter
1 tablespoon brown sugar
1/4 teaspoon vanilla
1/8 teaspoon ground cinnamon
1/8 teaspoon ground nutmeg
6 slices pound cake
for topping raspberries
for topping nuts
for topping whipped cream
Directions
Drain pineapple, reserving 1/3 cup juice and 6 pineapple rings (save remaining juice and pineapple for another use).
Combine butter, brown sugar, vanilla, cinnamon and nutmeg.
Brush half of the mixture on both sides of pineapple rings and cake slices.
On an uncovered grill over medium heat, cook pineapple and cake for 1 to 2 minutes on each side or until golden brown, brushing occasionally with remaining pineapple juice mixture.
Top each slice of cake with a pineapple ring. Top with raspberries, nuts and whipped cream, if desired. Serve immediately.