Easy Coconut Cake
By
Paula Deen
JUMP TO RECIPE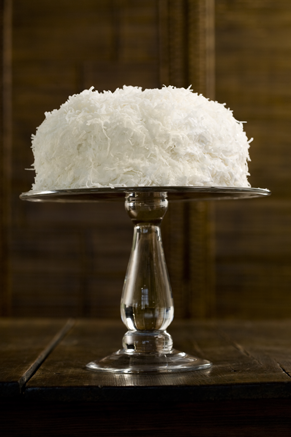 Difficulty: Easy
Prep time: 20 minutes
Cook time: 27 minutes
Servings: 10
Ingredients
Cake
1 (18.25-ounce) box yellow cake mix
whole milk, as called for by the cake mix
½ cup shredded sweetened coconut, for topping
Filling
1 cup sour cream
1½ cups sugar
12 oz canned or frozen shredded coconut
Frosting
2 large egg whites
1½ cups sugar
2 teaspoons light corn syrup or 1/4 teaspoon cream of tartar
1 pinch salt
1 teaspoon vanilla extract
Directions
Cake
Preheat the oven to 350 degrees F. Grease three 9-inch round cake pans with butter, oil or cooking spray.
Follow the directions on the cake mix box, substituting milk for water. Divide the batter among the cake pans. Bake for 20 minutes. Remove from the oven and let cool in the pans for 5 minutes on a wire rack, then remove the cakes from the pans to cool completely.
Spread filling between the slightly warm cake layers, piercing each layer with a toothpick as you stack them, but don't pierce the top of the top layer. Store the cake in a container in the refrigerator for 2 to 3 days to allow the flavors to soak through.
Filling
In a medium bowl, stir together the sour cream, sugar and coconut.
Frosting
Make on the day you're serving the cake. In the top of a double boiler, combine the egg whites, sugar, corn syrup or cream of tartar, and salt. Do not place over the heat; instead beat for 1 minute using a handheld electric mixer. Then place over simmering water and cook, beating constantly, until the frosting forms stiff peaks.
This should take about 7 minutes. Remove from the heat. Add the vanilla and beat until it reaches spreading consistency, about 2 minutes. Frost the top and sides of the cake and sprinkle all over with shredded coconut.