Creamy Coconut Pops
By
Paula Deen
JUMP TO RECIPE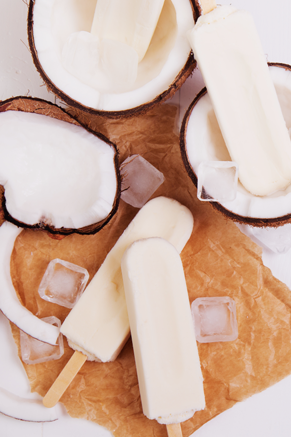 Difficulty: Easy
Ingredients
1 12 fluid oz can fat-free evaporated milk
1 13.5 oz can light coconut milk
1/2 cup confectioner's sugar
1/2 cup unsweetened coconut Cakes
1 tablespoon coconut extract
Directions
In a large mixing bowl with a pour spout, whisk together all ingredients. Divide mixture among ice pop mold. Top mold with cover and insert ice pop stick into each pop.
Freeze overnight or until pops are firm (approximately 8 hours).
For easy removal, dip the bottom of the ice mold in hot water for a few seconds to loosen the pops. Remove pops from mold and serve.
No ice pop molds? Use small paper cups. Line paper cups on a small baking sheet and fill with mixture. Cover with film wrap and place in the freezer. When pops are partially frozen, insert one ice pop stick into the center of each cup. Return to freezer until firm.