Lighter Red Velvet Cupcakes
By
Deen Brothers
JUMP TO RECIPE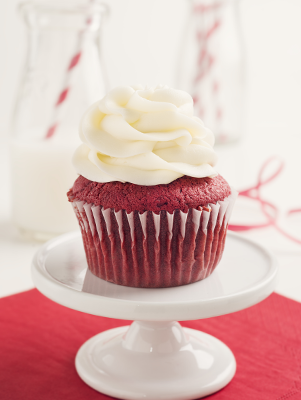 Difficulty: Medium
Prep time: 20 minutes
Cook time: 20 minutes
Servings: 20
Ingredients
2 cups cake flour
2 tablespoons unsweetened cocoa powder
2 teaspoons baking powder
1/2 teaspoon plus 1/8 teaspoon salt
1/4 teaspoon baking soda
1 cup low-fat buttermilk
1 1/2 cup granulated sugar
1/4 cup canola oil
1 large egg
2 teaspoons red food coloring
2 large at room temperature egg whites
2 tablespoons or 1 teaspoon coconut extract coconut rum
1/2 teaspoon cream of tartar
Directions
Preheat the oven to 350°F. Line a 12-cup muffin pan with cupcake liners or coat with cooking spray.
To make the cupcakes, combine the flour, cocoa powder, baking powder, 1/2 teaspoon salt, and baking soda in a large bowl. Whisk together the buttermilk, 3/4 cup sugar, oil, egg, and food coloring in a medium bowl until well mixed. Gradually stir the buttermilk mixture into the flour mixture just until incorporated. Fill each muffin cup two-thirds full with the batter. Bake until a toothpick inserted into the center comes out clean, about 20 minutes. Let cool in the pan on a rack 10 minutes. Remove the cupcakes from pan and let cool completely on the rack.
Meanwhile, to make the Marshmallow Cream, bring a few inches of water to a simmer in a saucepan that can hold a large heatproof bowl above the water. Whisk the remaining 3/4 cup sugar, egg whites, rum, cream of tartar and 1/8 teaspoon salt in the bowl by hand. Set the bowl above the simmering water and beat with an electric hand mixer at medium-high speed until stiff peaks form, 5 – 7 minutes. Remove from the heat. Let cool 5 minutes. Evenly spread the frosting over the tops of the cupcakes.