Easy Blueberry Skillet Cake
By
Paula Deen
JUMP TO RECIPE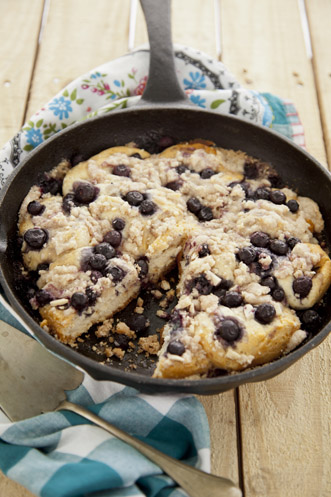 Difficulty: Easy
Prep time: 10 minutes
Cook time: 30 minutes
Servings: 8
Ingredients
Streusel Topping
1/4 cup slivered almonds
1/4 cup granulated sugar
2 tablespoons unsalted butter
2 1/2 tablespoons all-purpose flour
1 teaspoon ground cinnamon
Coffee Cake
2 tablespoons unsalted butter
1 tablespoon light brown sugar
1 (12-oz) tube buttermilk biscuits
1 cup fresh or frozen blueberries, thawed
Directions
Streusel Topping
Combine the almonds, sugar, 2 tablespoons butter, flour and cinnamon in a food processor and pulse until large crumbs form.
Coffee Cake
Preheat the oven to 375 °F.
In a 9-inch cast-iron or other ovenproof skillet, cook the remaining 2 tablespoons butter and brown sugar over medium heat until melted. Arrange the biscuits in a single layer in the skillet. Scatter the blueberries over the biscuits, and then distribute the streusel topping over the berries. Bake until the biscuits are golden and a tester inserted in the center of a biscuit comes out clean, about 30 minutes. Allow to cool slightly and serve from the skillet.