Double Orange Glazed Pork Chops
By
Paula Deen
JUMP TO RECIPE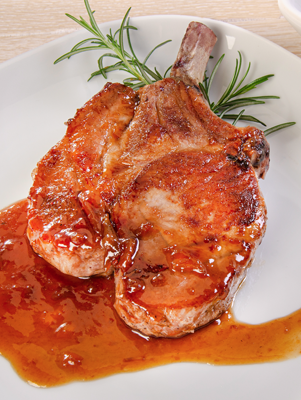 Difficulty: Easy
Prep time: 15 minutes
Cook time: 15 minutes
Servings: 4
Ingredients
1 cup orange juice, freshly squeezed, if possible
1/3 cup orange marmalade
3 tablespoons unsalted butter
4 tablespoons vegetable oil
4 (8-oz) bone-in pork loin chops, 1/2-inch thick
1 teaspoon salt
1/4 teaspoon freshly ground black pepper
Directions
In a small bowl, mix together the orange juice and marmalade.
Heat the butter and vegetable oil in a large skillet over medium heat. Season the pork chops with the salt and pepper. Add the chops and cook, turning once, until just cooked through, 6 to 8 minutes total. Transfer the chops to a platter and cover loosely with aluminum foil.
Pour off all but 3 tablespoons of drippings from the skillet and add the orange juice mixture. Raise the heat to medium-high and stir, scraping up the brown bits on the bottom of the pan, until the sauce is reduced and slightly syrupy, 6 to 8 minutes. Return the pork chops to the pan, reduce the heat to medium, and cook, turning the pork chops a few times in the sauce.
Transfer the chops to serving dishes and drizzle with some of the sauce. Pour the remaining sauce into a bowl and serve alongside the chops.