Creamy Rice Pudding with Dried Cherries
By
Deen Brothers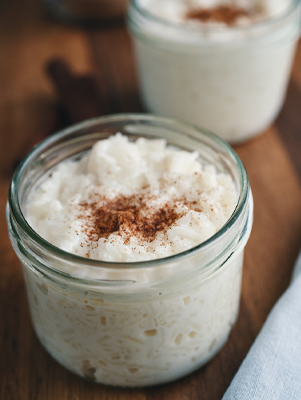 Ingredients
1 cup uncooked long grain white rice
1 1/2 cups milk
1 1/2 cups water
1/2 teaspoon salt
1 14-ounce can sweetened condensed milk
2/3 cup dried cherries
2 tablespoons heavy cream
2 teaspoons vanilla
1/2 teaspoon finely grated orange zest
Ground nutmeg
Directions
Put the rice in the top of a double boiler set over simmering water. Add the milk, water, and salt. Cover and cook about 30 minutes or until the rice is tender.
Stir in the condensed milk, cherries, and cream. Cook over simmering water about 20 minutes or until the pudding thickens slightly, stirring frequently.
Remove from heat and stir in the vanilla and orange zest. Spoon pudding into individual bowls and sprinkle with nutmeg. Serve warm.