Cranberry-Raisin Pie
By
Carol Zorawowicz
JUMP TO RECIPE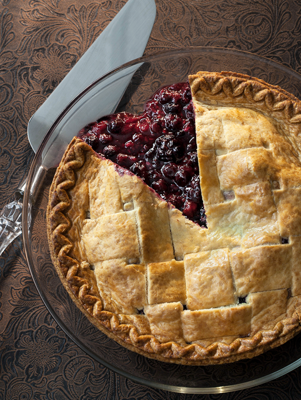 Difficulty: Easy
Prep time: 20 minutes
Cook time: 40 minutes
Servings: 8 to 10
Ingredients
2 cups sugar
2 tablespoons cornstarch
1/2 cup water
4 cups cranberries
1 cup raisins
1 tablespoon grated orange rind
2 9-inch frozen deep-dish pie crust (unbaked)
milk or eggwash, for brushing
turbinado sugar, optional
Directions
Preheat oven to 375˚F or 400˚F.
Combine the sugar, cornstarch, and water, and cook about 5 minutes.
Add the cranberries, raisins, and orange rind, and bring to a rapid boil. Remove from heat and cool before putting it in the first pie crust.
Roll out the second pie crust, drape it over the pie. Fold in the edges, dip a fork in flour, and use the floured tines to decorate the edge of the pie. Cut 3 to 5 vents in the center of the pie. Brush the crust with a little milk or an egg wash, and, if you like, top with turbinado sugar.
Bake for 25 minutes or until the crust is brown.