Mr. Jefferson's French Vanilla Ice Cream
By
Paula Deen
JUMP TO RECIPE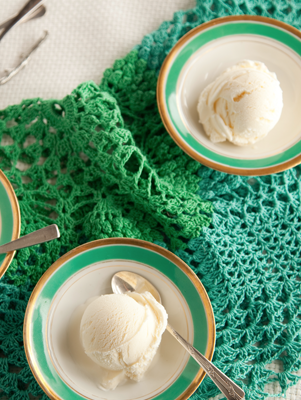 Difficulty: Easy
Ingredients
2 quarts heavy cream
1 vanilla bean
6 large egg yolks
8 ounces (1 cup) sugar
Directions
Bring the cream and vanilla bean to a simmer in a heavy-bottomed saucepan over medium-low heat, and simmer, stirring frequently, until fragrant, about 5 minutes. Whisk the egg yolks in a bowl until smooth and whisk in the sugar. It will be quite thick.
Slowly beat about 1 cup of hot cream into the yolks and then gradually stir it into the rest of the cream. Cook, stirring constantly, until it thickly coats the back of the spoon, about 5 minutes. Strain through a double layer of cheesecloth or a fine mesh strainer and remove the vanilla bean (it can be rinsed, dried, and re-used). Stir until slightly cooled. Cover and refrigerate until chilled, at least 1 hour or overnight.
Freeze the custard in an ice cream machine according to the manufacturer's directions until set but still a little soft. Scoop it into a 3-quart mold or several smaller molds, running a spatula through and tapping the mold firmly to remove any air bubbles and fill all the crevices. Cover and freeze until set, about 2-4 hours. The ice cream may also be set without molding in a freezer-safe container.
To serve molded ice cream dip the mold briefly in hot water or wrap briefly in a towel heated in a clothes dryer. Run a knife around the top edge to separate the ice cream from the mold. Invert the mold over a serving dish and gently lift it from the ice cream. Serve ice cream that isn't molded in small scoops.