Cranberry & Pecan Baked Brie
By
Jamie Deen
JUMP TO RECIPE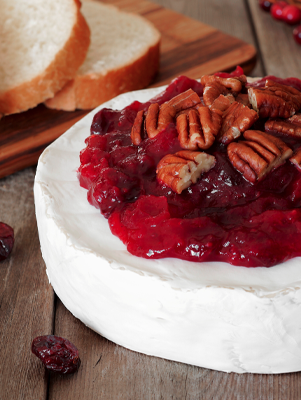 Difficulty: Easy
Prep time: 5 minutes
Cook time: 8 to 12 minutes
Servings: 4 to 6
Ingredients
1 (8-ounce) wheel of brie cheese
⅓ cup whole cranberry sauce
2 tablespoons packed brown sugar
1 teaspoon vanilla extract
1 teaspoon orange zest
⅛ teaspoon freshly ground nutmeg
¼ cup pecans
Directions
Preheat oven to 425˚F. Remove the rind from the top of the brie, and make a small well on top.
Place the cheese in a small baking dish.
In a small bowl, combine the cranberry sauce with the brown sugar, vanilla, orange zest, and nutmeg. Pour this mixture into the small well and over the top of the brie. Top with pecans.
Bake for 8 to 12 minutes or until the topping is bubbly and the cheese is softened. Keep a close eye on it so you can take it out before the brie collapses.
Serve with crackers or crostini.
Cook's Note: If you're serving it in something other than the dish in which you're baking it, place parchment paper under the cheese for an easier transfer.