Mini Artichoke and Gruyere Quiche
By
Paula Deen
JUMP TO RECIPE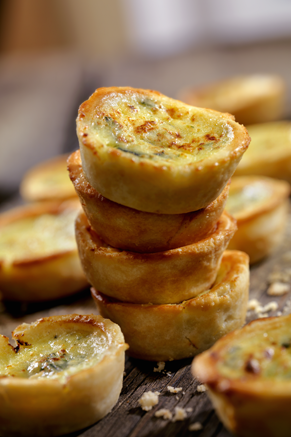 Difficulty: Easy
Prep time: 15 minutes
Cook time: 15 minutes
Servings: 15
Ingredients
2 tablespoons softened, plus 4 tablespoons, melted butter
3/4 cup (about 16 crackers) buttery crackers
4 slices bacon
1 tablespoon white and light green parts, chopped green onions
1/2 cup drained and chopped marinated artichoke hearts
1/2 cup milk
1/4 teaspoon salt
1/8 teaspoon pepper
1 egg
1/2 cup (2 oz) grated Gruyere cheese
Directions
Preheat the oven to 300 °F. Grease a 12-cup mini-muffin tin with the softened butter.
In a small bowl, combine the cracker crumbs and melted butter, then divide the mixture evenly among the muffin cups, pressing the crumbs up the sides.
In a medium skillet over medium-high heat, brown the bacon for 5 minutes, turning once. Then remove from the pan and drain on some paper towels. Add the green onions and saute for 3 minutes. Add the artichokes and cook for 2 minutes more. Crumble the bacon and add back into the mixture. Then allow the mixture to cool for 2 to 5 minutes.
Beat together the milk, salt, pepper and egg. Add this to the cooled bacon mixture. Spoon the mixture into the muffin tin evenly over the cracker crumbs, filling the cups three-quarters full. Sprinkle the grated cheese on top. Bake the quiches until they are just set in the middle, 15 to 20 minutes, watching carefully so as to not over bake. Serve hot or warm.
Cook's Note: The quiches can be stored, covered, in the refrigerator for up to 3 days, or in the freezer for a month. Warm them in the oven before serving.