Mini Cranberry Meatballs
By
Paula Deen
JUMP TO RECIPE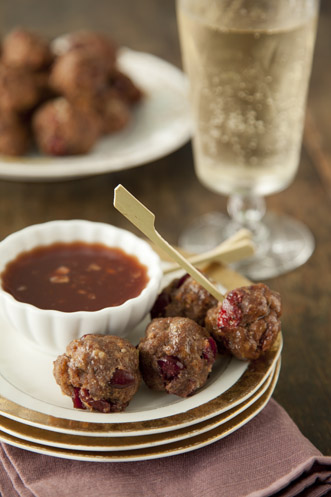 Difficulty: Easy
Prep time: 15 minutes
Cook time: 15 minutes
Servings: 15
Ingredients
1/2 cup bread crumbs
1/3 cup chopped, or dried if fresh is unavailable fresh cranberries
1 tablespoon tomato paste
1 teaspoon plus 1 tablespoon, divided dijon mustard
1 teaspoon olive oil
1 teaspoon plus 1 teaspoon, separated chipotle pepper sauce
3/4 teaspoon dried oregano
1/2 teaspoon ground cumin
1/2 teaspoon salt
1/2 teaspoon ground black pepper
2 cloves minced garlic
1 large lightly beaten egg
1 1/2 lb ground round
1 (12 oz) jar red currant jelly
1/4 cup orange juice
3/4 teaspoon orange zest
2 teaspoons minced shallot
1/8 teaspoon ground ginger
1 1/2 teaspoons cornstarch
Directions
Preheat the oven to 400 °F. Spray the rack of a broiler pan with nonstick cooking spray; place in an aluminum foil-lined broiler pan.
In a large bowl, combine the breadcrumbs, cranberries, tomato paste, 1 teaspoon mustard, oil, 1 teaspoon chipotle pepper sauce, dried oregano, cumin, salt, pepper garlic and egg. Add the ground round and mix together. Shape the mixture into forty 1-inch meatballs. Place the meatballs on the prepared rack in pan. Bake until done, 15 minutes. Serve with Sweet-Hot Dipping Sauce.
Sweet-Hot Dipping Sauce:
In a small saucepan over medium heat, add the jelly, orange juice and zest, 1 tablespoon mustard, shallots, remaining teaspoon chipotle sauce and ginger. Bring the jelly mixture to a boil.
In a small bowl, combine the cornstarch and 2 1/2 teaspoons water; add to the jelly mixture, stirring constantly for 1 minute. Remove from the heat. Serve warm with meatballs. Yield: 1 1/2 cups.