Corrie's Carrot Cupcakes
By
Paula Deen
JUMP TO RECIPE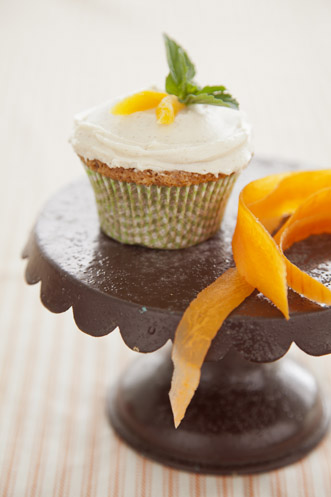 Difficulty: Easy
Ingredients
3 cups all purpose flour
3 cups granulated sugar
1 tablespoon baking soda
2 teaspoons plus 1/2 teaspoon ground cinnamon
1 teaspoon salt
1 1/2 cups vegetable oil
4 eggs
3 (4 oz) jars (1 1/2 cups) carrot baby food
1 tablespoon plus 1/2 teaspoon vanilla extract
1 1/2 cups chopped pecans
1 1/2 cups sweetened shredded coconut
1 8-ounce package softened cream cheese
4 tablespoons butter
1 cup confectioner's sugar
3/4 cup finely chopped pecans
12 dried apricots
1 bunch fresh mint
Directions
Preheat the oven to 350 degrees F. Line 18 cups of 2 regular muffin tins with paper cupcake liners.
Sift the flour, granulated sugar, baking soda, 2 teaspoons cinnamon, and salt into a large bowl. In a separate bowl, whisk together the oil, eggs, 1 tablespoon vanilla and carrot puree. Stir the wet ingredients into the dry ingredients. Fold in 1 1/2 cup chopped pecans and coconut.
Fill the prepared cups halfway. Bake until golden and a tester inserted in the middle of a cupcake comes out clean, about 30 minutes. Let stand for 5 minutes before popping the cupcakes out of the trays to cool completely on wire racks.
Frosting: Beat together the cream cheese, butter, confectioners' sugar, 1/2 teaspoon vanilla extract and 1/2 teaspoon cinnamon, in a medium bowl. When the cupcakes are completely cool, slather the tops with a generous amount of frosting.
If you want to garnish the cupcakes, roll the edges of each cupcake the finely chopped pecans. Slice each dried apricot into 3 small carrot-shaped wedges. Arrange 2 apricot slices on each cupcake, along with mint sprigs to look like carrot tops. Store the cupcakes in an airtight container and keep refrigerated. They will keep for 3 to 4 days.