Corrie's Creamy Corn Chowder
By
Corrie Heirs
JUMP TO RECIPE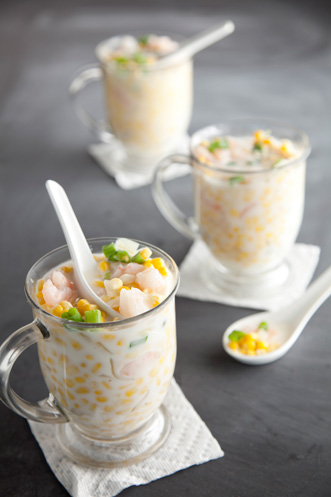 Difficulty: Easy
Prep time: 15 minutes
Cook time: 15 minutes
Servings: 15
Ingredients
6 ears kernels removed and reserved and cobs reserved corn
2 tablespoons butter
1 medium chopped yellow onion
2 cups chicken broth
1/2 cup heavy cream
1 lb large, peeled, deveined, and cut into 1-inch pieces shrimp
3 white and light green parts, trimmed and chopped green onions
freshly ground, to taste black pepper
to taste salt
Directions
Put the corn cobs into a large pot with just enough water to cover (break the cobs in half if they don't fit). Bring the water, over medium-low heat, to a simmer and cook the cobs for 20 minutes. Discard the cobs and reserve 3 cups of the cooking water.
In a medium saucepan, melt the butter over medium heat. Add the onions and cook, stirring occasionally, until softened, 3 to 5 minutes. Add the corn kernels, chicken broth, cream, and reserved corn water. Season with salt and pepper, to taste, and bring to a boil. Lower the heat and let simmer for about 10 minutes. Add the shrimp and simmer until just opaque, 2 to 3 minutes.
Ladle the chowder into soup bowls and garnish with the green onions. Serve hot.