Coconut Fried Shrimp With Dipping Sauce
By
Paula Deen
JUMP TO RECIPE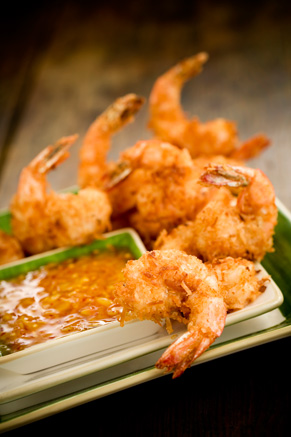 Difficulty: Medium
Prep time: 15 minutes
Cook time: 15 minutes
Servings: 15
Ingredients
2/3 cup water
1/2 teaspoon baking powder
1 teaspoon salt
1/2 cup all purpose flour
1/2 teaspoon crushed red pepper flakes
4 teaspoons rice wine vinegar
1/2 cup orange marmalade
2 cups shredded sweetened coconut
1/2 cup breadcrumbs
1 lb medium or large peeled and deveined shrimp
for frying peanut oil
Directions
Dipping Sauce:
Add red pepper flakes, vinegar and marmalade to a pot on a low temperature. Heat for 10 minutes, making sure you stir ingredients every few minutes. In a large, heavy pot, heat 2-inches of the peanut oil to 325 °F.
Meanwhile, in a large bowl, whisk together the flour, salt and baking powder. Add the water and whisk until smooth. Let the batter stand for 15 minutes.
In a wide, shallow bowl, toss the coconut and breadcrumbs together.
Put the shrimp into the batter. Remove the shrimp, 1 at a time, and dredge in the coconut mixture, pressing to help the coconut adhere. Fry the shrimp in batches in the hot oil for 1 to 2 minutes or until brown. Use a slotted spoon to transfer the shrimp to a baking sheet lined with paper towels. Serve the shrimp with the dipping sauce.