Coconut Fried Shrimp
By
Deen Brothers
JUMP TO RECIPE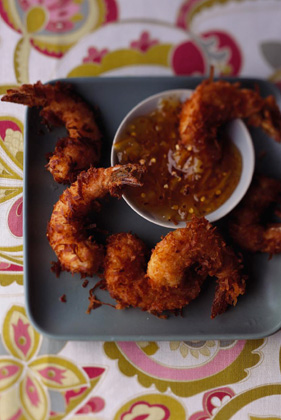 Featured in:
The Deen Bros. Recipes from the Road
Difficulty: Easy
Servings: 6 appetizer servings
Ingredients
Vegetable oil for frying
1/2 cup all-purpose flour
1 teaspoon salt
1/2 teaspoon baking powder
2/3 cup water
2 cups shredded sweetened coconut
1/2 cup bread crumbs
1 pound medium
1/2 cup orange marmalade
4 teaspoons rice vinegar
1/2 teaspoon crushed red pepper flakes
Directions
In a large, heavy pot, heat 2 inches of the oil to 360F.
Meanwhile, in a large bowl, whisk together the fl our, salt, and baking powder. Add the water and whisk until smooth. Let the batter stand for 15 minutes.
In a wide, shallow bowl, toss the coconut and bread crumbs together.
Put the shrimp into the batter. One by one, remove the shrimp and dredge in the coconut mixture, pressing to help the coconut adhere. Fry the shrimp in batches in the hot oil for 1 1/2 to 2 minutes or until brown. Use a slotted spoon to transfer the shrimp to a baking sheet lined with paper towels. In a small, nonplastic, microwave-safe bowl, stir together the dipping sauce ingredients. Microwave on high (100% power) about 45 seconds or until bubbly. Stir and serve with the shrimp.