Classic Buttermilk Pancakes
By
Paula Deen
JUMP TO RECIPE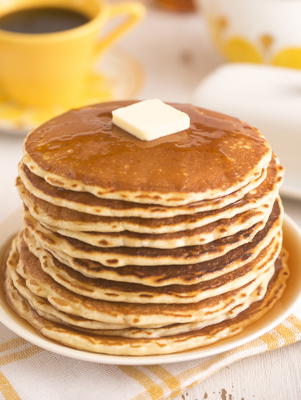 Difficulty: Easy
Prep time: 5 minutes
Cook time: 8 minutes
Servings: 6
Ingredients
2 cups all-purpose flour
¼ cup sugar
2 teaspoons baking powder
1 teaspoon baking soda
1 teaspoon salt
2 cups buttermilk
4 tablespoons butter, melted
2 eggs, lightly beaten
1 teaspoon vanilla extract
Directions
Heat a large nonstick griddle to 325˚F.
In a large mixing bowl, whisk together flour, sugar, baking soda, salt, and baking powder. Stir in the buttermilk,  melted butter, eggs, and vanilla.
Pour ¼ cup of pancake batter for each pancake onto the griddle. Cook until the edges start to set and the pancakes are golden-brown underneath. Flip and continue cooking for another 3-4 minutes.