Black Pepper Bacon
By
Paula Deen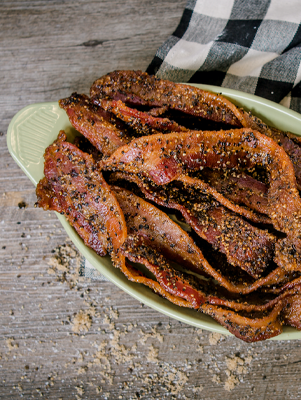 A favorite dish from Paula Deen's Family Kitchen.
Prep time:

10 minutes

Cook time: 30 minutes
Servings: 4
Ingredients
1 pound thick-cut bacon
1 cup brown sugar
1 teaspoon freshly cracked black pepper
Directions
Preheat oven to 325˚F.
Mix brown sugar and pepper together in a mixing bowl. Dredge the bacon in the mixture, evenly coating both sides.
Place the bacon on a sheet pan and bake it for 30 minutes, or until the bacon is caramelized.