Clothesline Bacon
By
Paula Deen
JUMP TO RECIPE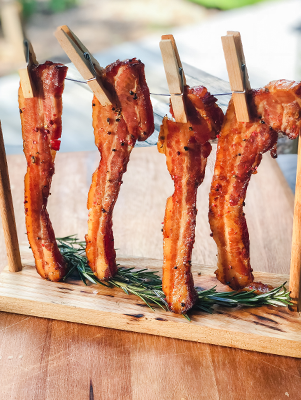 Difficulty: Easy
Prep time: 10 minutes
Cook time: 30 minutes
Servings: 6 to 8
Ingredients
2 pounds thick slab bacon, slice using slicer at ½-inch
1 cup maple syrup
1 cup brown sugar
¾ cup coarse ground black pepper
Directions
Lay the bacon in a pan on a wire rack being careful not to overlap. Brush lightly with maple syrup on one side then sprinkle the rub evenly onto one side.
Bake at 350 degrees for 15 minutes then flip and repeat the process. Continue to repeat until the bacon is rendered and firm. It should be able to stand straight once cooled. Cook times will vary according to thickness of the bacon.
Cook's Note: You may be able to find the uncut slab bacon in the deli section of your grocery store. If none is available, use the thickest cut you can find pre-packaged. Regular bacon will work, but the thicker the better!