Tomato Grits
By
Paula Deen
JUMP TO RECIPE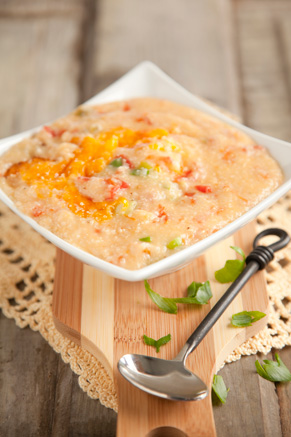 Difficulty: Medium
Prep time: 10 minutes
Cook time: 10 minutes
Servings: 10
Ingredients
2 cups water
1 1/4 cups milk
1 teaspoon salt
1 cup quick cooking grits
1/2 cup and 1 tablespoon butter
1/3 diced green onions
1 (6 oz) garlic cheese roll
2 1/2 cups shredded cheddar cheese
1 (10 oz) can diced tomatoes and green chilies
2 lightly beaten eggs
4 oz cubed processed cheddar cheese
1/4 teaspoon garlic powder
Directions
Preheat oven to 350 °F.
In a saucepan, bring the water and milk to a boil. Add the salt and slowly add the grits and return to a boil, stirring constantly for 1 minute. Reduce the heat, cover, and cook for 3 minutes. While stirring the grits add the butter and stir until butter is melted. Cover and cook for 3 to 5 minutes, or until the grits are thick and creamy. Remove from heat and set aside.
Using a skillet, saute the onions in the remaining tablespoon of butter for 1 minute. Add the garlic cheese, 1/2 cup cheddar, and onions to grits and stir until the cheese is melted. Add the tomatoes and mix well. Stir in the beaten eggs. Pour the grits into a greased 8x11x2-inch casserole and bake for 40 minutes. Sprinkle remaining cheese over the casserole for the last 5 minutes of cooking time.