Classic Banana Pudding
By
Paula Deen
JUMP TO RECIPE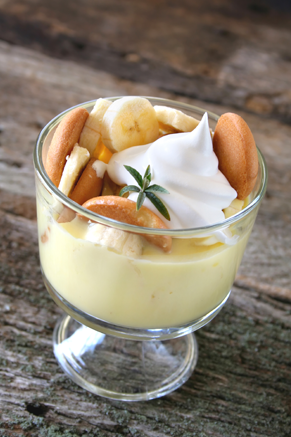 Difficulty: Easy
Prep time: 15 minutes
Cook time: 15 minutes
Servings: 15
Ingredients
3/4 cup plus 3 tablespoons granulated sugar
1/2 cup packed light brown sugar
1/2 cup cornstarch
1/4 teaspoon salt
6 large egg yolks
4 cups whole milk
1 stick cold, cut into small bits butter
4 teaspoons vanilla extract
50 or half an (11 oz) box vanilla wafers
3 large or 4 small, cut into 1/4-inch thick slices bananas
2 cups heavy cream
Directions
1. To make the filling: In a medium bowl, whisk together brown sugar and 3/4 cup granulated sugar, the cornstarch and salt. Whisk in the egg yolks and 1/2 cup of the milk until thoroughly combined.
2. In a large, heavy-bottomed saucepan, bring the remaining 3 1/2 cups milk to a boil over medium- high heat. Whisking constantly, gradually pour the hot milk into the egg mixture. Pour the mixture back into the saucepan and cook over medium heat, stirring constantly with a heatproof spatula, until a few bubbles rise to the surface and the mixture thickens, about 5 minutes. Remove from the heat and whisk in the butter and vanilla.
3. Spread half the custard into a 13 by 9-inch baking dish and smooth the top. Top the custard with the vanilla wafers in a single layer. Place all of the sliced bananas on top of the wafers. Spread the remaining custard over the surface. Cover the surface entirely with plastic wrap to prevent a
skin from forming. Refrigerate until thoroughly cooled and set, at least 4 hours.
4. When ready to serve, prepare the topping: In the bowl of an electric mixer fitted with the whisk attachment or using a handheld mixer, beat the cream and 3 tablespoons granulated sugar at medium high speed to medium peaks. Spread the whipped cream over the surface of the custard and serve.
Your mama will be so proud!