Claire's Thai Fried Chicken
By
Claire Handleman
JUMP TO RECIPE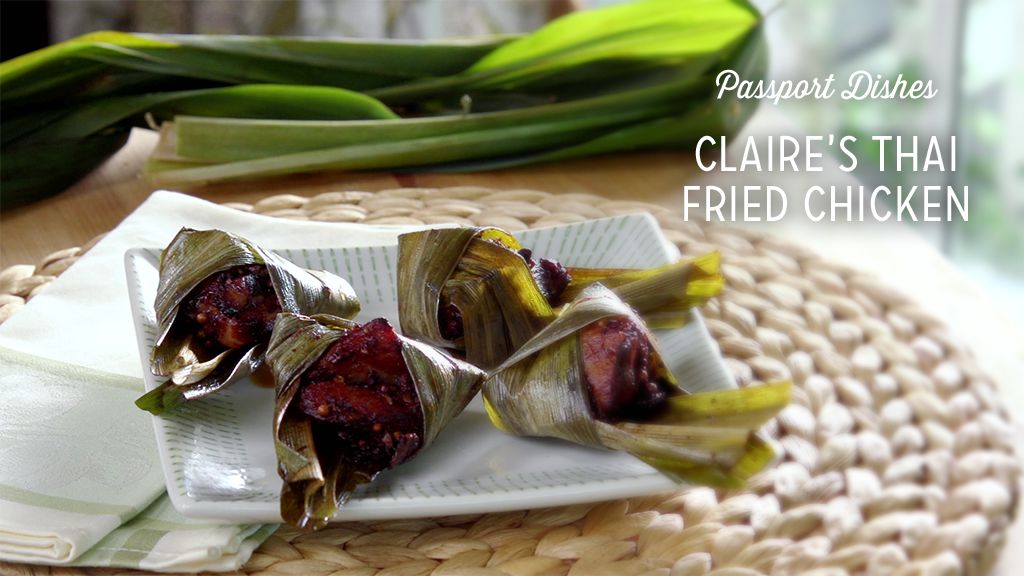 Difficulty: Medium
Prep time: 70 minutes
Cook time: 70 minutes
Servings: 70
Ingredients
for frying peanut oil
1 lb boneless, skinless, cut in half chicken thighs
2 tablespoons coriander
1/2 teaspoon white pepper
10 cloves garlic
1 finger peeled and chopped ginger
2 tablespoons oyster sauce
2 tablespoons light soy sauce
1 tablespoons (up to 2 tablespoons) sesame oil
for wrapping, optional pandan leaves
to taste kosher salt
Directions
Have deep fryer preheated to 350 °F. Season the chicken thighs with salt on both sides and add to a large bowl
In food processor, add 2 tablespoons coriander, 1/2 teaspoon white pepper, 10 cloves peeled garlic and 1 finger ginger, chopped. Pulse until roughly chopped.
Add the spice paste into the bowl with the chicken, then add 2 tablespoons oyster sauce, 2 tablespoons light soy and 1-2 tablespoons sesame oil; stir to coat.
If time permits, cover with plastic wrap and marinate for at least 1 hour, or up to overnight.
Fill a large pot with 1 inch of water and outfit with a flower steamer. Cover pot with lid and turn to medium heat.
Wrap the chicken pieces in pandan leaves and add to steamer. Steam until opaque, about five minutes.
Remove the chicken pieces from steamer with tongs and carefully add, in batches, to the deep fryer. Fry until golden brown, about 5 minutes per batch.