Cinnamon Star Drawer Sachets
By
Paula Deen
JUMP TO RECIPE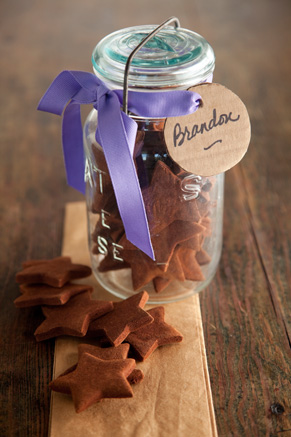 Difficulty: Easy
Ingredients
3/4 cup applesauce
1 cup plus 2 tablespoons ground cinnamon
Directions
Preheat oven to 200 °F.
Line a large baking sheet with parchment paper and set aside.
In a medium mixing bowl, stir together applesauce and cinnamon until a ball of dough is formed. Use your hands to get the final cinnamon mixed in thoroughly. Place dough between two pieces of plastic wrap and roll out until approximately ¼ inch in thickness. Using a small star shaped cookie cutter, cut into stars and place on the parchment paper lined baking sheet.
Bake for 1 ½ to 2 hours depending on the size of your stars. You may also dry the sachets at room temperature on a wire rack for 2 days until thoroughly dry, turning occasionally.
To give as a gift: Fill a mason jar with dried sachets and tie with a bow. A great gift for any occasion!
To use: Place in any drawer you want to keep freshly scented. Discard after scent fades.