Grilled NY Striptease
By
Paula Deen
JUMP TO RECIPE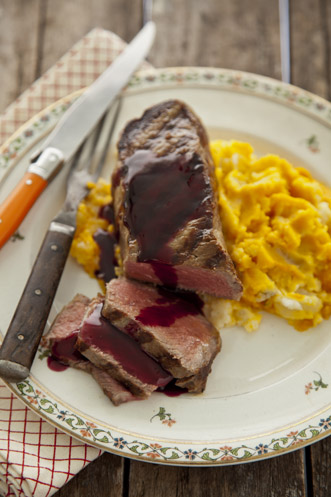 Difficulty: Easy
Prep time: 10 minutes
Cook time: 10 minutes
Servings: 10
Ingredients
2 (14 oz) center cut dry 28-day aged prime strip loin
kosher salt
white pepper
750 ml Bordeaux red wine
1 stick cinnamon
2 star anise
2/3 cup honey
Directions
Preheat a grill over medium-high heat.
Season prime strips generously with kosher salt and white pepper on both sides. Put the steaks on a very hot grill and cook for about 3 to 5 minutes on each side for medium-rare. Transfer to serving plates and serve with Bordeaux Syrup, and Truffle Potato and Carrot Puree.
Bordeaux Syrup:
Put all the ingredients in a stainless steel saucepan. Reduce slowly over medium heat, until it becomes a syrup, about 30 minutes. Strain and drizzle Bordeaux Syrup over steak.