Apple and Grilled Chicken Pizza
By
Paula Deen
JUMP TO RECIPE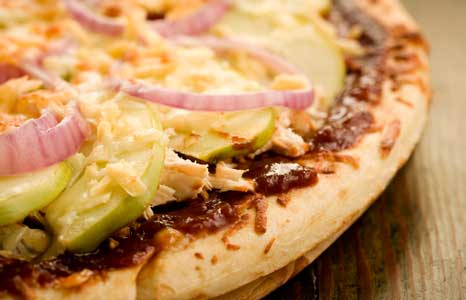 Difficulty: Easy
Prep time: 10 minutes
Cook time: 10 minutes
Servings: 8
Ingredients
1 (12 inch) pre-baked pizza crust
1/2 cup Paula Deen Smokey Apple Cinnamon Sauce
1/2 cup grilled shredded chicken
1 thinly sliced green apple
1/4 cup chopped red onion
1/2 cup shredded Monterey Jack cheese
1/2 cup shredded smoked gouda
Directions
Preheat oven to 450 °F.
Place pizza crust on baking sheet or pizza stone. Spread with Paula Deen Smokey Apple Cinnamon sauce. Scatter chicken over top. Arrange apple slices evenly over the top. Scatter red onion evenly. Top with cheeses.
Bake for 10-12 minutes or until cheese is bubbly. Serve with a fresh garden salad.