Sweet Vidalia Onion Relish
By
Paula Deen
JUMP TO RECIPE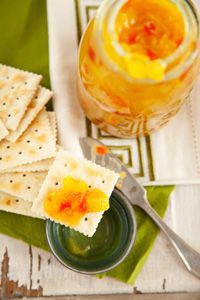 Difficulty: Medium
Prep time: 25 minutes
Cook time: 25 minutes
Servings: 25
Ingredients
4 large skins removed and finely chopped Vidalia onions
2 cups approximately 1/4 head finely shredded green cabbage
1/4 cup kosher salt
4 1/2 cups divided water
2 chopped red bell peppers
1/2 cup packed light brown sugar
2 cups apple cider vinegar
1 tablespoon dried mustard powder
3/4 teaspoon turmeric
1/4 cup all purpose flour
1 teaspoon mustard seed
2 teaspoons celery seed
3 (1 pint) sterilized canning jars and lids
Directions
In an extra large glass mixing bowl, combine chopped onions and shredded cabbage. Dissolve salt into 4 cups of water and pour over onions and cabbage. Allow to soak overnight.
Drain onions and cabbage and set aside.
In a large saucepan add apple cider vinegar and light brown sugar. Stir until brown sugar has dissolved. Add dry mustard, turmeric and remaining 1/2 cup water. Stir together.
Add flour and stir until a thick paste is formed. Whisk in celery seed and mustard seed.
Bring the entire mixture to a boil over medium high heat, making sure to stir constantly to prevent sticking. Once thickened, add the drained cabbage and red bell pepper.
Continue to boil for an additional 5 minutes.
Sterilize jars and lids directly before using for 10 minutes in simmering water or in the dishwasher. Remove one at a time when ready to fill.
While onion relish mixture is still hot, ladle into the hot sterilized jars, filling to within 1/4 inch of the top. Wipe rims with a clean damp cloth and seal jars with lids and rings.
Process in a boiling water bath (making sure water level is 1 inch over the top of the jars) for 15 minutes. Remove from water bath and allow to cool on the counter.
Serving Suggestions: Wonderful mixed into egg, chicken or tuna salad. Add a 1/2 teaspoon to the top of deviled eggs or top your just grilled hamburgers with 1 tablespoon.