Churros
By
Paula Deen
JUMP TO RECIPE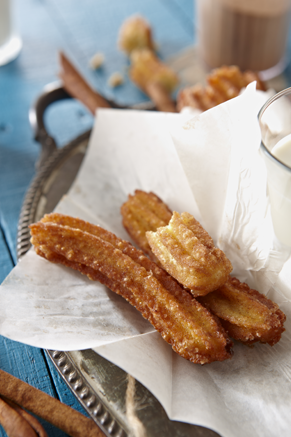 Difficulty: Medium
Prep time: 15 minutes
Cook time: 15 minutes
Servings: 15
Ingredients
for deep frying vegetable oil
1/2 cup plus 2 teaspoons divided sugar
2 teaspoons ground cinnamon
1/2 stick butter
1 cup water
1 cup all purpose flour
1 zested orange
1/4 teaspoon freshly grated nutmeg
4 eggs
Directions
Fill a deep-fryer or large Dutch oven halfway with vegetable oil and heat to 350 °F.
Mix the 2 teaspoons sugar and 2 teaspoons cinnamon together in a large shallow bowl, set aside.
Combine the butter, water and sugar in a large saucepan over medium-high heat and bring to a boil. Once it has come to a boil, lower to a medium heat and add the flour, orange zest and nutmeg, stirring constantly until it comes away from the pan and it forms a ball. Transfer dough to a bowl and use an electric mixer to help cool it off. At this point you can whisk in the eggs, 1 at a time, until it becomes a smooth batter. Transfer the mixture into a large piping bag fitted with a large star tip. Working in batches, carefully pipe 4-inch long ribbons directly into the hot oil to fry. Fry until golden, turning if necessary, about 2 to 3 minutes. Remove with tongs and drain on paper towels. Transfer the churros into the sugar/cinnamon mixture and toss to coat. Serve immediately while still warm.