Cinnamon Ripple Sweet Potato Cake
By
Paula Deen
JUMP TO RECIPE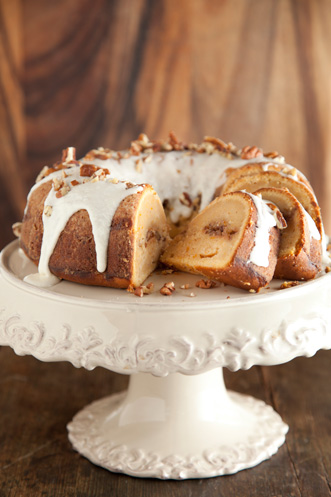 Difficulty: Easy
Prep time: 20 minutes
Cook time: 20 minutes
Servings: 20
Ingredients
1 cup softened, plus butter for pan butter
1/2 cup firmly packed brown sugar
1/2 cup chopped plus more for garnish pecans
1 teaspoon ground cinnamon
2 cups sugar
3 large eggs
12 oz sour cream
1 cup mashed cooked (about 1 medium) sweet potato
1 teaspoon vanilla extract
3 cups all purpose flour
1 teaspoon baking powder
1 teaspoon salt
1/4 teaspoon ground nutmeg
2 cups confectioner's sugar
1/2 cup heavy whipping cream
3/4 teaspoon rum extract
Directions
Preheat the oven to 350 °F. Butter and flour a 12-cup Bundt pan.
In a small bowl, combine the brown sugar, pecans and cinnamon; set aside.
In a large bowl, combine the 1 cup of butter and sugar. Beat at medium speed with an electric mixer until creamy. Beat in the eggs, 1 at a time, beating well after each addition. Stir in the sour cream, sweet potatoes and vanilla.
In a medium bowl, combine the flour, baking powder, cinnamon, salt and nutmeg. Gradually add it to the butter mixture, stirring well.
Pour half of sweet potato batter into prepared pan. Sprinkle evenly with the brown sugar mixture. Spoon the remaining batter evenly over the streusel. Bake until a tester inserted in center comes out clean, about 1 hour. Remove the cake from the oven and cool. Spoon the Rum Glaze over cooled cake, add chopped pecan garnish (optional) slice and serve.
Rum Glaze:
In a small bowl, whisk together 2 cups of confectioner's sugar, 1/2 cup heavy whipping cream and 3/4 teaspoon rum extract until smooth.