Lighter Cinnamon Ripple Sweet Potato Cake
By
Deen Brothers
JUMP TO RECIPE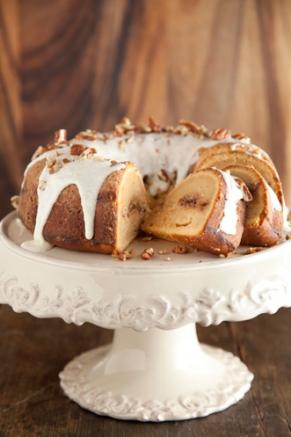 Difficulty: Easy
Prep time: 15 minutes
Cook time: 15 minutes
Servings: 15
Ingredients
1/2 cup finely chopped pecans
1/4 cup packed light brown sugar
3 teaspoons ground cinnamon
2 cups white whole wheat flour
3/4 cup granulated sugar
2 teaspoons baking powder
1/2 teaspoon baking soda
1/2 teaspoon salt
1/4 teaspoon ground nutmeg
3/4 cup low-fat buttermilk
2 large eggs
1 large egg white
1/3 cup canola oil
1 1/4 teaspoons vanilla extract
1 cup cooked mashed, about 1 medium sweet potato sweet potatoes
for dusting confectioner's sugar
Directions
Preheat the oven to 350 °F. Spray a 10-inch bundt pan with cooking spray.
Combine the pecans, brown sugar and 1 teaspoon cinnamon in a small bowl until blended; set aside.
Combine the flour, granulated sugar, the remaining 2 teaspoons cinnamon, baking powder, baking soda, salt and nutmeg in a medium bowl. Whisk together the buttermilk, eggs, egg white, oil and vanilla in another medium bowl. Stir in the mashed sweet potato until well combined. Gradually stir the buttermilk mixture into the flour mixture just until incorporated. Scrape half of the batter into the prepared pan; sprinkle evenly with the pecan mixture. Spread the remaining batter evenly over the pecan mixture.
Bake until a toothpick inserted into the center comes out clean, 35 to 40 minutes. Cool in the pan on a rack, 10 minutes. Remove from the pan, and cool completely on the rack. Dust with confectioner's sugar before serving.