Chocolate Heaven Cake
By
Paula Deen
JUMP TO RECIPE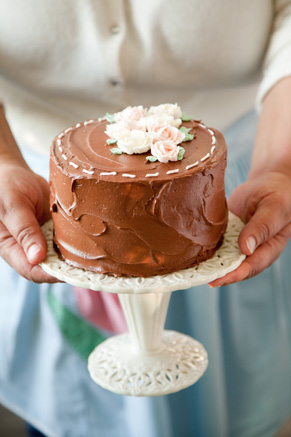 Difficulty: Medium
Prep time: 30 minutes
Cook time: 60 minutes
Servings: 8 to 10
Ingredients
Cake
3 cups cake flour (not self-rising)
1 teaspoon salt
1 1/2 teaspoons baking soda
4 cups sugar
1 cup sour cream, at room temperature
4 large eggs, at room temperature
1 cup oil
9 oz unsweetened chocolate
1 tablespoon vanilla extract
2 cups strong coffee, freshly brewed
Frosting
3 sticks unsalted butter, at room temperature
2 tablespoons milk
1 teaspoon vanilla extract
9 oz semi-sweet chocolate, melted
2 1/2 to 3 cups confectioner's sugar, sifted
Directions
Cake
Preheat oven to 325 °F. Grease bottom and sides of three 9″ cake pans.
In a large mixing bowl combine flour, sugar, baking soda and salt.
In a medium bowl place chocolate and pour hot coffee and 1 tablespoon vanilla. Let stand about 2 minutes to melt the chocolate then stir until smooth.
ln another bowl whisk together eggs and oil until well blended and light in color. Whisk in sour cream, then melted chocolate mixture.
Add chocolate sour cream mixture to dry ingredients and mix on low speed while gradually adding in thirds. Mix until just until incorporated scraping down the sides of the bowl as needed. Fill prepared pans two thirds full. Bake cakes 40-55 minutes until a toothpick inserted comes out clean. Let cool then decorate as desired.
Frosting
Mix butter and milk until smooth and creamy. Add 1 teaspoon vanilla just until incorporated. Add melted chocolate until completely mixed. Gradually add sugar until you reach the consistency of frosting.