Chocolate Molten Love Cake
By
Patrick and Jenny McNamara, Owners of Noble Fare
JUMP TO RECIPE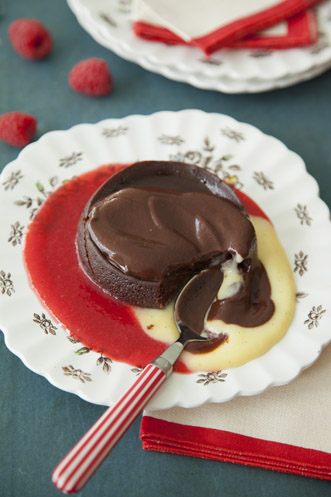 Difficulty: Hard
Prep time: 1 hour 15 minutes
Cook time: 1 hour
Servings: 12
Ingredients
1 lb sweet butter
1 lb 64% dark chocolate
1/2 lb sugar
9 eggs
4 1/2 oz sifted, divided cake flour
3 cups (40%) heavy cream
1 split and seeds scraped vanilla bean
9 egg yolks
1 pint fresh raspberries
2 cups granulated sugar
1 cup plus 7 tablespoons, divided water
1 cup whole milk
14 oz melted unsalted butter
14 oz chopped pistachios
4 oz bittersweet chocolate
1/4 cup butter
Directions
Preheat the oven to 325 °F. Grease 12 baking rings with spray and arrange them over a greased and lined baking sheet.
Mix 1 lb butter and 1 lb dark chocolate in a stainless steel bowl over a double boiler. Melt until a smooth texture forms. Put the bowl over a double chiller.
*Cook's Note: This is like a double boiler except the bottom bowl is filled with ice. Add the 1/2 lb sugar and 9 eggs to a medium bowl and whisk to combine. Slowly fold the eggs into the chocolate and butter mixture, then fold in the 1/4 cup cake flour.
Fill the baking rings 1/2-full with the batter. Bake in the oven until the sides have set but the center is glossy, about 6 minutes. Remove from oven, let cool a few minutes, then lift the baking ring off each cake.
For assembly, add 1 to 2 tablespoons Creme Anglaise to each serving plate. Add butterscotch sauce to plates using a fancy design. Do the same with the Raspberry Coulis. Add a piece of Pistachio Tuile. Transfer the molten cakes from baking sheet to the plates on top of the sauces. Drizzle chocolate sauce on top and garnish with berries.
Creme Anglaise:
In a medium saucepot pot over medium heat, add the cream, vanilla bean and seeds, 1/2 lb sugar and 9 egg yolks. Stir with rubber spatula directly touching the bottom of the pan keeping the mixture moving without sticking. Cook the mixture on medium heat for 15 minutes until the mixture tightens. Strain and chill over an ice bath until smooth, thick and cold.
Raspberry Coulis:
Add the berries and syrup to a blender. Puree, then strain and pour into a squeeze bottle.
Simple Syrup:
Mix 2 cups sugar and 1 cup water together in a pot. Cook on high heat until thick and the sugar has completely dissolved. Cool.
Pistachio Tuile:
Preheat the oven to 350 °F.
Mix whole milk and 12 oz melted butter together in a bowl. Mix the pistachios and 4 1/2 oz cake flour together in a separate bowl.
Fold the wet with dry, a little at a time, until incorporated. Pour evenly on top of a silicone mat lined baking sheet. Bake for 5 minutes. Allow to cool, then break into pieces.
Chocolate Sauce:
Add the 4 oz bittersweet chocolate, 7 tablespoons water and 1/4 cup butter to a double boiler. Stir until melted then cool and drizzle on top of cakes.