Chocolate-Hazelnut Éclair Cake
By
Paula Deen
JUMP TO RECIPE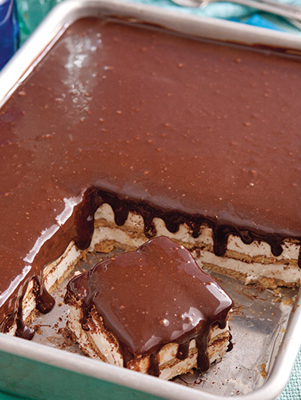 Featured in:
Cooking with Paula Deen Magazine
Difficulty: Easy
Prep time: 20 minutes
Servings: 10 to 12
Ingredients
2 (3.3-ounce) packages white chocolate instant pudding mix
3 cups whole milk
1 teaspoon vanilla extract
1 (8-ounce) frozen whipped topping, thawed
1 (7-ounce) jar marshmallow creme
1 (14.4-ounce) package graham crackers
1 cup grated bittersweet chocolate
1 (13-ounce) jar chocolate-hazelnut spread *
1⅓ cups chocolate syrup
Directions
In a large bowl, beat pudding mix, milk, and vanilla with a mixer on medium-low speed until thickened. In a medium bowl, beat whipped topping and marshmallow crème with mixer at medium speed until smooth. Beat whipped topping mixture into pudding mixture until well combined.
In the bottom of a 13×9-inch freezer-safe baking dish, arrange one-third of graham crackers in an even layer, breaking crackers as needed to entirely cover dish. Spread half of pudding mixture over crackers, and sprinkle with half of grated chocolate. Repeat layers once, and top with remaining graham crackers.
In a medium bowl, beat chocolate-hazelnut spread and chocolate syrup with a mixer at medium speed until well combined; spread over graham crackers. Cover pan, and freeze for at least 8 hours before serving or for up to 2 days.
Note from Paula: I used Nutella. It's best to keep any leftovers of this éclair cake in the freezer because the chocolate topping will soften and before a sauce if refrigerated and as it stands while being served. But either way, it will taste great.