Chocolate Gravy and Biscuits
By
Paula Deen
JUMP TO RECIPE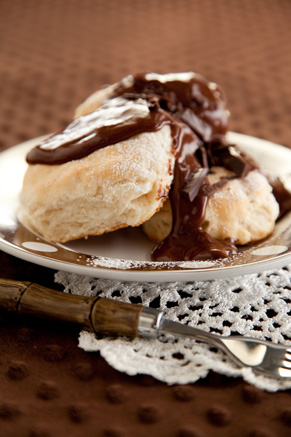 Difficulty: Medium
Prep time: 20 minutes
Cook time: 40 minutes
Servings: 8-10
Ingredients
3 cups plus 2 tablespoons all purpose flour
2/3 cup plus 2 tablespoons sugar
2 1/2 teaspoons baking powder
1/2 teaspoon baking soda
1/2 teaspoon salt
1/2 cup plus more for pan vegetable shortening
1 cups buttermilk
1/4 cup melted unsalted butter
1/4 cup melted, plus 1/3 stick butter
1/3 cup cocoa
2 cups whole milk
Directions
Preheat the oven to 450 degrees F.
In a medium bowl, combine the 3 cups flour, 2 tablespoons sugar, baking powder, baking soda and salt. Cut in the shortening with a fork until it looks like cornmeal. Add the buttermilk, a little at a time, stirring constantly until well mixed.
Turn the dough out onto a lightly floured surface. Knead lightly 2 or 3 times. Roll out the dough with a floured rolling pin to 1/2-inch thickness. Cut dough into circles with a 2-inch cutter.
Place the biscuits in a greased iron skillet. Gently press down the top of the biscuits. Brush the biscuits with half the 1/4 cup melted butter and bake for 14 minutes or until golden brown. Brush the hot biscuits with the remaining melted butter. Split the biscuits in half and ladle Chocolate Gravy over the hot biscuits.
Chocolate Gravy:
Heat 1/3 stick butter in a cast iron skillet over low heat. Mix in 2/3 cup sugar, 2 teaspoons flour and cocoa. Slowly pour 1 cup of milk into the skillet and whisk well to remove lumps. Whisk in remaining milk, stirring constantly, until mixture is thick, being careful not to scorch. Serve hot over biscuits.