Biscuits and Chocolate Gravy
By
Paula Deen
JUMP TO RECIPE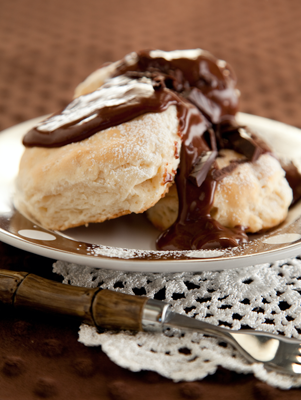 Difficulty: Easy
Prep time: 20 minutes
Cook time: 40 minutes
Servings: 8-10
Ingredients
2 tablespoons butter
3 tablespoons self rising flour
2 tablespoons cocoa powder
1 cup granulated sugar
4 1/2 cups whole milk
1 package biscuit mix
for rolling biscuits all purpose flour
Directions
In a medium saucepot over medium heat, add the butter, self-rising flour, cocoa powder and sugar and whisk together add 2 1/2 cups milk and whisk constantly until thickened.
In a large bowl, add the box of biscuit mix and 2 cups of milk. Mix together until dough forms.
On a clean surface, add all-purpose flour (or extra biscuit mix). Coat a rolling pin in flour or mix, then roll out dough to 1/2 inch thickness.
Use a biscuit cutter (or a round glass) to make uniform biscuits, making sure to use as much dough as possible.
Coat baking sheet with a pat of butter. Place biscuits on pan, then bake according to package instructions.