Cinnamon Buns
By
Paula Deen
JUMP TO RECIPE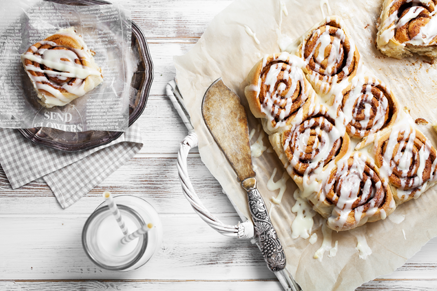 Difficulty: Hard
Prep time: 30 minutes
Cook time: 30 minutes
Servings: 30
Ingredients
1/2 cup plus 1/2 cup for starter granulated sugar
1/2 cup vegetable oil
1 tablespoon salt
2 cups hot water
1 tablespoon (1 package) plus 1 teaspoon for starter dry active yeast
6 cups all purpose flour
2 sticks butter
1 1/2 cups plus more if needed brown sugar
1/2 cup ground cinnamon
1 cup chopped pecans
1/2 cup raisins
4 cups powdered sugar
3/4 cup half and half
1 package bread starter
1/2 cup idaho potato flakes
1 1/2 cups warm-hot tap water
Directions
Starter: One day before you plan on baking the cinnamon buns combine bread starter, 1/2 cup sugar, 1 teaspoon yeast, potato flakes and 1 1/2 cups warm water. Stir this mixture occasionally with a rubber spatula and your starter should soon start bubbling within 12 hours.
Cook's Note: You will know this because you will see bubbles along the side of the glass container and you may possibly see bubbling on the top of the mixture as well. Let this mixture sit bubbling, uncovered, until you are ready to make bread the next day. You might want to stir it occasionally. Remember this is a living culture and you will need to take care of it in order to keep it alive.
Buns: When you are ready to bake, preheat the oven to 170 °F. Prepare 2 (9 by 12-inch) rectangular baking dishes by spraying with nonstick oil spray.
In a mixer fitted with a dough hook, mix together starter, 1/2 cup granulated sugar, vegetable oil, salt, water, 1 tablespoon yeast and flour.
After mixing the dough for about 2 minutes, remove the dough to a bowl sprayed with nonstick oil.
Cook's Note: If the dough mix is too loose, add more flour.
Cover with a towel and let rise until doubled in size. The rising process will take 1 to 4 hours, depending on the altitude and weather at the time and place you are making the buns.
When doubled, dump the whole pile of dough onto a well-floured surface and with a rolling pin manipulate the dough to make a rectangle about 1/4-inch thick.
Filling: Melt 2 sticks of butter to where it is creamy and spreadable. Spread the butter onto the dough triangle making sure you spread thoroughly to all corners. Sprinkle brown sugar and then cinnamon over the butter making sure that the whole triangle is covered, corner to corner. Top with chopped pecans and raisins.
Roll the dough into a tight roll. Cut with a serrated knife into 2-inch long rolls and place into the baking dishes.
Cook's Note: If using the rectangle baking dish, snuggle the buns together as if they were trying to keep each other very warm. You might want to manipulate the size of the pan to make sure that the buns are very snug in the pan.
You do not have to cover the rolls, but you need to let them rise in an oven set at 170 °F to proof until you see that they are almost but not quite doubled in size, about 40 to 50 minutes. When you see that they are at that point, turn the oven up to 350 °F. Bake for 25 minutes until you see that they are truly golden on the top.
Cook's Note: A good test is when you take them out of the oven and push on the very center of a bun; if it sinks inward easily and feels doughy, they will need 5 to 10 minutes more cooking time.
Glaze/Icing: In a mixer beat powdered sugar and half-and-half until smooth and without lumps. Take the buns out of the oven and put them on a wire rack. Immediately glaze them with a pastry brush. After glazing all of the buns, go back over and glaze once again.
Cook's Note: If you desire, you can melt more butter on the top before serving. If warming buns after they are cool, 20 seconds in the microwave revives that incredible hot-out-of-the-oven taste. However, even cold, they are awesome.