Apricot Honey Buns
By
Paula Deen
JUMP TO RECIPE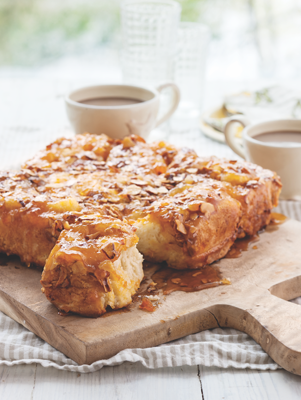 Featured in:
At the Southern Table
Difficulty: Medium
Prep time: 40 minutes
Cook time: 30 minutes
Servings: 9
Ingredients
1/4 cup warm water (105° to 110°)
1 teaspoon active dry yeast
4 cups self-rising flour
1/2 cup cold unsalted butter, cubed
3/4 cup whole buttermilk
1/2 cup honey, divided
1 cup apricot preserves
1/2 cup butter, softened and divided
1 cup toasted sliced almonds
Directions
Preheat oven to 400°. Line a 9-inch square baking pan with foil, letting excess extend over sides of pan. Spray foil with cooking spray.
In a small bowl, stir together ¼ cup warm water and yeast; let stand until mixture is foamy, about 5 minutes.
In a large bowl, toss together flour and cold butter. Using a pastry blender, cut in butter until mixture is crumbly. Refrigerate for 10 minutes.
In a small bowl, stir together buttermilk and ¼ cup honey. Stir buttermilk mixture and yeast mixture into flour mixture just until dry ingredients are moistened.
Turn out dough onto a lightly floured surface, and knead 3 to 4 times, adding just enough additional flour to keep from sticking. Roll dough to a 14×12-inch rectangle.
In a small bowl, stir together preserves and ¼ cup softened butter; spread mixture onto dough. Starting at one long side, roll up dough into a log, pressing edges to seal. Cut dough into 9 (1½-inch-thick) slices.
In a small saucepan, cook remaining ¼ cup honey and remaining ¼ cup softened butter over low heat, stirring frequently, until butter is melted. Pour honey mixture into prepared pan, and sprinkle with almonds. Place dough slices in pan on almonds.
Bake until golden brown and a wooden pick inserted in center comes out clean, 25 to 30 minutes. Let cool in pan for 5 minutes. Invert onto a serving plate, and gently remove foil; serve warm.