Chocolate Chunk Cookies
By
Deen Brothers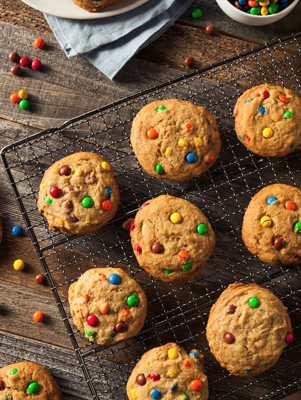 Prep time:

20 minutes

Cook time: 15 minutes
Servings: About 7 dozen cookies
Ingredients
1 1/2 cups walnuts
2 1/4 cups all-purpose flour
1 teaspoon baking soda
1 teaspoon salt
1 cup 2 sticks unsalted butter
3/4 cup granulated sugar
3/4 cup packed light brown sugar
2 teaspoons vanilla
2 large eggs
8 ounces bittersweet chocolate at least 60 percent cacao
1 cup candy-coated milk chocolate candies
Directions
Position oven racks in the top and bottom thirds of the oven. Preheat oven to 325°F. Spread the walnuts on a rimmed baking sheet; toast on the top rack of the oven for 7 to 10 minutes or until fragrant and golden, shaking the pan once to ensure even toasting. Transfer to a small bowl; set aside.
Increase the oven temperature to 375°F. In a medium bowl, stir together the flour, baking soda, and salt.
In a large mixing bowl, beat butter and sugars on medium speed with an electric mixer for 2 to 3 minutes or until pale and fluffy. Beat in vanilla. Beat in the eggs, one at a time, beating well after each addition and scraping down sides of the bowl as necessary. Beat in the flour mixture until incorporated. Stir in the walnuts, chocolate, and candies.
Drop dough by heaping teaspoonfuls 2 inches apart onto two ungreased cookie sheets. Bake on separate racks in the oven for 9 to 11 minutes or until golden brown, switching pan positions halfway through baking. Let cookies cool on sheets for 2 minutes. Transfer to wire racks to cool completely.