Fluffy Oatmeal Raisin Sandwich Cookies
By
Paula Deen
JUMP TO RECIPE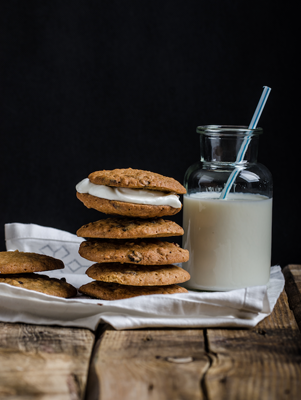 Difficulty: Easy
Prep time: 13 minutes
Cook time: 13 minutes
Servings: 13
Ingredients
1 cup about 2 sticks, at room temperature butter
1 1/4 cups firmly packed brown sugar
1 large egg
1/4 cup milk
2 cups all purpose flour
1/2 teaspoon baking soda
1/2 teaspoon salt
1/2 teaspoon ground cinnamon
1/4 teaspoon ground nutmeg
2 1/2 cups quick cooking oats
1/2 cup raisins
as needed hot fudge topping
as needed marshmallow creme
Directions
Preheat the oven to 350 °F. Lightly grease 2 or 3 baking sheets or line with silicone mats.
In a large bowl, beat the butter and brown sugar with an electric mixer until creamy. Add the egg and the milk and beat until combined.
In a medium bowl, combine the flour, baking soda, salt, cinnamon and nutmeg. Gradually add the dry ingredients to butter mixture, beating until incorporated. Stir in the oats and raisins. Form the cookies by dropping heaping 2 tablespoonfuls of the batter onto the prepared baking sheets, 6 cookies per sheet, spacing evenly.
Bake until the cookies are lightly browned, about 11 to 13 minutes. Let them cool for 2 minutes on the baking sheets, then transfer them to wire racks to cool completely.
Spread a small dollop of the fudge on the inside of 6 cookies. Spread a large dollop of the marshmallow creme on the inside of another 6 cookies. Sandwich the cookies together and transfer to a serving platter.