Chocolate Bundles With Chocolate Ganache
By
Paula Deen
JUMP TO RECIPE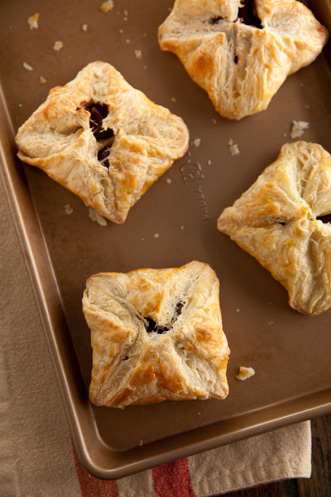 Difficulty: Medium
Prep time: 10 minutes
Cook time: 35 minutes
Servings: 4
Ingredients
1 puff pastry sheet
8 chocolate drop-shaped candies
4 miniature chocolate candy bars
2 eggs
1/2 cup plus 1 teaspoon heavy cream
4 oz broken into small pieces milk chocolate
for topping whipped cream
for garnish mint sprig
for garnish fresh strawberries
Directions
Preheat oven to 350 °F. Unfold puff pastry and cut sheet into four squares, each 4 inches by 4 inches. Beat eggs and mix in 1 teaspoon of cream to create egg wash. Brush pastry squares with egg wash. Place 2 chocolate kisses and 1 mini candy bar in center of each pastry square. Pull corners of square up around the chocolate, brushing edges with more egg wash if necessary to create a secure bundle. Brush exteriors of chocolate bundles with more egg wash. Repeat with remaining bundles.
Place bundles on a sheet pan lined with parchment paper. Bake for about 35 minutes or until golden brown.
Chocolate Ganache:
In a saucepan, heat 1/2 cup heavy cream to a boil. Place chocolate pieces in a bowl and pour hot cream over top. Whisk until smooth.
Puddle ganache onto a plate and place bundle on top. Top with whipped cream and additional ganache if desired.
Serve bundles topped with chocolate ganache, strawberry slices and mint sprig.