Lighter Toffee Brownies
By
Deen Brothers
JUMP TO RECIPE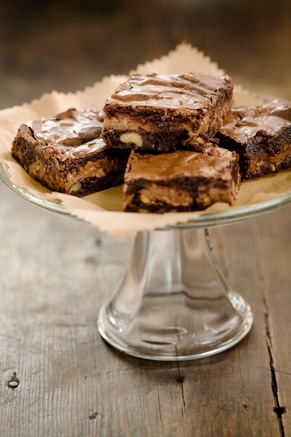 Difficulty: Easy
Prep time: 10 minutes
Cook time: 10 minutes
Servings: 10
Ingredients
1 cup all purpose flour
2/3 cup unsweetened cocoa powder
3/4 teaspoon baking powder
1/4 teaspoon salt
2 large eggs
1 teaspoon vanilla extract
1 cup sugar
4 tablespoons melted butter
3 tablespoons hot water
1 (4.25) ounce coarsely chopped milk chocolate bar with almonds and toffee chips
Directions
Preheat the oven to 350 °F. Line the bottom and sides of an 8-inch square baking pan with aluminum foil, allowing 2 to 3 inches to extend over sides; lightly spray the foil with nonstick spray.
Combine the flour, cocoa powder, baking powder, and salt in a medium bowl. With an electric mixer on medium speed, beat the eggs and vanilla in a large bowl until blended. Increase the speed to medium-high and gradually beat in the sugar until the mixture is thickened and pale yellow, 2 to€" 3 minutes. Beat in the butter and water until blended. Stir in the flour mixture, then the chopped candy, until combined.
Scrape the batter into the pan; spread evenly. Bake until a toothpick inserted into the center comes out with a few moist crumbs clinging, 20 to€" 25 minutes. Do not over bake. Cool in the pan on a rack 20 minutes. Lift the brownies from the pan, using foil sides as handles. Gently remove from the foil. Cool at least 1 hour before cutting into 16 squares.