Chocolate Birthday Cupcakes With Vanilla Frosting
By
Paula Deen
JUMP TO RECIPE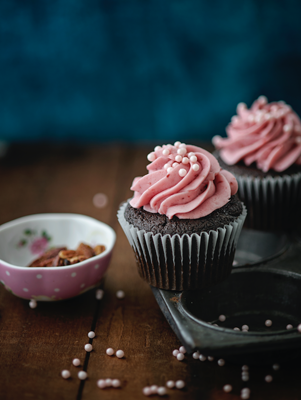 Difficulty: Easy
Prep time: 20 minutes
Cook time: 20 minutes
Servings: 12
Ingredients
1/2 cup plus 2 tablespoons milk
1 teaspoon white vinegar
1/2 cup cocoa powder
1/2 cup hot water
1 cup granulated sugar
1/2 cup shortening
4 teaspoons plus 2 teaspoons vanilla extract
2 eggs
1 1/2 cups all purpose flour
1 teaspoon baking soda
8 cups confectioner's sugar
2 sticks unsalted butter
food coloring optional
sprinkles optional
Directions
For the cupcakes: Preheat the oven to 350 °F. In a measuring cup, mix together 1/2 cup milk and vinegar to make sour milk. In a large bowl, add the cocoa powder and hot water and mix together with an electric hand mixer. Add the soured milk, granulated sugar, shortening, 4 teaspoons vanilla extract and eggs and mix together. Next, add the flour and baking soda and mix until all the ingredients are incorporated.
Place cupcake liners into a cupcake pan and fill each halfway with batter. Bake until a toothpick inserted into the center comes out clean, 15 to 18 minutes. Cool in the pan for 5 to 10 minutes.
For the frosting: Whip 4 cups of the confectioner's sugar, the butter and remaining 2 teaspoons vanilla extract with an electric hand mixer until smooth, while slowly adding 2 tablespoons milk.
Add food coloring to achieve desired color and the remaining 4 cups confectioner's sugar.
Frost the cupcakes and top with sprinkles.