Cherry Vanilla Ice Cream Dessert
By
Paula Deen
JUMP TO RECIPE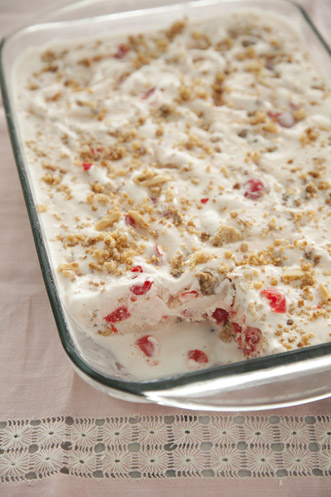 Difficulty: Medium
Prep time: 4 hours 40 minutes
Cook time: 30 minutes
Servings: 6-8
Ingredients
1 stick butter
2 cups chopped maraschino cherries
1 (13.5 oz) can chilled evaporated milk
1/2 teaspoon salt
ice
4 large lightly beaten eggs
1 split and scraped vanilla bean
2 cups sugar
3 cups whole milk
1 cup all purpose flour
1/4 cup brown sugar
1/3 cup slivered almonds
for garnish whipped cream
Directions
In a large saucepan, combine milk, sugar and vanilla bean seeds and pod. Cook over medium-low heat, just until small bubbles form around edges of pan, stirring occasionally.
Pour 1/4 of hot milk mixture over beaten eggs, whisking constantly. Pour egg mixture into remaining hot milk mixture, whisking constantly. Cook, over low heat, stirring constantly, for 5 to 7 minutes, or until mixture thickens and coats a spoon. Remove from heat; pour through a wire mesh strainer into a bowl.
Fill a large bowl with ice. Place bowl containing milk mixture in ice, and let stand, stirring occasionally for 20 minutes. Remove bowl from ice bath and stir in salt, evaporated milk and cherries. Cover and chill for 2 hours.
Pour mixture into freezer container of 1 gallon electric ice cream maker and freeze according to manufacturer's instructions. If a firmer texture is desired, transfer ice cream to an airtight container and freeze for 2 hours or until firm.
For the Candy Crumble:
Preheat oven to 350 °F.
Melt butter in a large skillet on low heat. In a bowl combine flour, sugar and almonds. Mix together while adding the warm butter.
Drop candy crumble onto a cookie sheet.
*Cook's Note: Does not have to be in balls. After it gets cooked it will be crumbled for the dessert. Bake in the oven for 20 to 25 minutes.
After candy crumbles have been cooled, place half the mixture into a 9 by 12-inch pan. Scoop ice cream on top and finish with the rest of the crumbles. Wrap pan with plastic wrap and place into freezer until ice cream and candy hardens, about 2 hours. Slice and serve with whipped cream, for garnish.