Cherry Cobbler Cupcakes
By
Stefani Pollack
JUMP TO RECIPE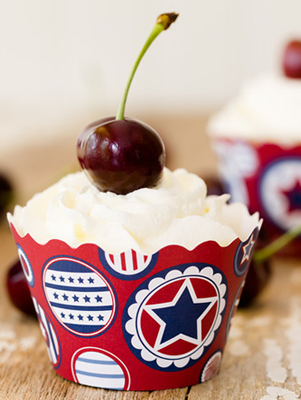 Difficulty: Medium
Prep time: 30 minutes
Cook time: 27 minutes
Servings: 16
Ingredients
1 cup brown sugar
½ cup unsalted butter, temperature
1¾ cups all-purpose flour
1½ teaspoons baking powder
½ teaspoon baking soda
½ teaspoon salt
2 large eggs, room temperature
½ teaspoon lemon extract
1 cup milk
32 cherries, pitted and de-stemmed
2 tablespoons cornstarch
2 tablespoons sugar
fresh whipped cream, to taste
16 cherries with stems, for garnish
Directions
Preheat oven to 350˚F.
In a medium-sized mixing bowl, beat brown sugar and butter until fully combined. Mix in flour, baking powder, baking soda, and salt. Mix in eggs one at a time. Mix in lemon extract and milk.
Fill cupcake liners ¼ full.  Note that this will not use all of the batter. Bake for 7 minutes.
While the batter is baking, roll the pitted and de-stemmed cherries in a bowl of corn starch and sugar until the cherries are fully coated.
Remove cupcake tin from the oven and place two coated cherries on top of the partially cooked batter in each cupcake liner.
Divide remaining batter evenly among the cupcake liners, covering the cherries. The batter will come nearly to the top of the cupcake liners.
Bake for 20 minutes or until cupcakes bounce back when lightly touched.
Top each cooled cupcake with fresh whipped cream and a cherry.