Rock-n-Roll Cherry Cobbler
By
Paula Deen
JUMP TO RECIPE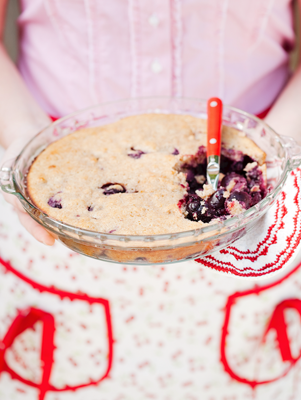 Difficulty: Easy
Prep time: 20 minutes
Cook time: 20 minutes
Servings: 8
Ingredients
2 1/2 cups fresh sweet cherries, pitted
1/8 cup bourbon
1 tablespoon cornstarch
1 1/4 cups whole wheat pastry flour
2 teaspoons baking powder
1/3 cup fine-grain natural cane sugar plus 1 tablespoon
1/4 teaspoon salt
1 egg
1/2 cup buttermilk
3 tablespoons butter, melted and slightly cooled
ice cream, optional
Directions
Preheat oven to 425 °F with a baking rack in the top of the oven. Butter a 9-10 inch round pie pan.
In a small bowl gently toss the cherries with the cornstarch, 1/3 cup sugar and bourbon. Set aside.
To make the cobbler topping, combine the flour, baking powder, and 1 tablespoon sugar and salt in a large bowl. In another separate, smaller bowl, whisk together the egg and the buttermilk, whisk in the butter. Fold the buttermilk mixture into the flour mixture until it'™s barely combined.
Pour the cherry mixture into the prepared pan. Drop teaspoons of cobbler topping all over the top of the cherry mixture. Push the batter around and out to the edges with your fingers if you need to.
Bake for 15-20 minutes or until the top is golden and cooked through. Serve warm or room temperature with a small scoop of ice cream.