Cheesy Pretzel Dipping Sauce
By
Deen Brothers
JUMP TO RECIPE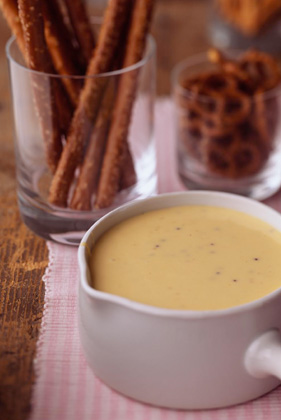 Featured in:
The Deen Bros. Recipes from the Road
Difficulty: Easy
Prep time: 10 minutes
Cook time: 15 minutes
Servings: 2 cups
Ingredients
1/2 cup milk
2 tablespoons unsalted butter
8 ounces sharp cheddar cheese
4 ounces cream cheese
1/4 cup sour cream
1 teaspoon prepared deli-style mustard
1/8 teaspoon bottled hot pepper sauce
Salt and freshly ground black pepper
Assorted pretzels
Directions
In a large saucepan, bring the milk and butter to a boil; reduce heat. Add cheddar cheese; whisk until smooth. Remove from heat. Add cream cheese, sour cream, mustard, and hot sauce; whisk until smooth. Season to taste with salt and pepper. Transfer sauce to serving dish. Serve sauce warm with pretzels. If the sauce starts to cool and firm up, heat it in the microwave on low power, stirring frequently.