Pretzel-Crusted Chicken With Cheddar Cheese Sauce
By
Paula Deen
JUMP TO RECIPE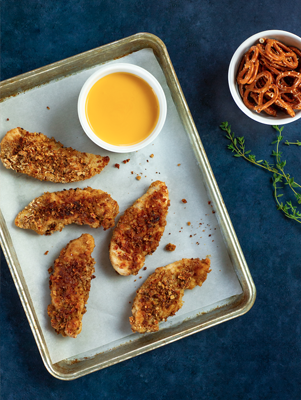 Difficulty: Easy
Prep time: 10 minutes
Cook time: 10 minutes
Servings: 10
Ingredients
2 large eggs
1 tablespoon dijon mustard
1 1/2 cups crushed pretzels
2 tablespoons minced fresh thyme
1 1/2 lb chicken cutlets
1/4 cup olive oil
2 tablespoons butter
2 tablespoons all purpose flour
2 cups milk
1 1/2 cups shredded cheddar cheese
Directions
In a shallow dish, whisk together the eggs and mustard until smooth. In a separate shallow dish, combine the pretzels and thyme.
Dip the chicken in the egg mixture, letting the excess drip off. Dredge in the pretzel mixture to coat.
In a large nonstick skillet, heat 2 tablespoons of the olive oil over medium heat. Add half of the chicken and cook until cooked through, 5 to 6 minutes per side. Remove the chicken from the skillet and keep warm. Repeat the procedure with the remaining 2 tablespoons oil and chicken. Wipe the skillet clean.
Melt the butter in the skillet over medium heat. Add the flour and cook, whisking constantly, for 2 minutes. Slowly add the milk, whisking until smooth. Cook, whisking constantly, until thickened and bubbly, 6 to 8 minutes. Add the cheese and stir until the cheese melts and the sauce is smooth.