Butterscotch Pie
By
Paula Deen
JUMP TO RECIPE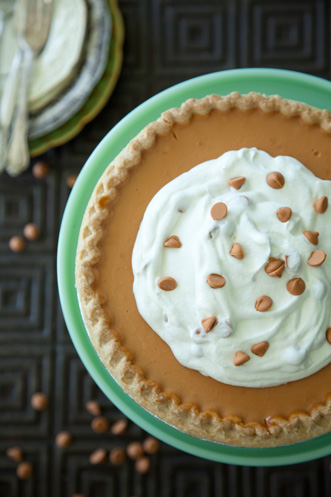 Difficulty: Easy
Prep time: 20 minutes (allowing time to cool and refrigerate)
Cook time: 10 minutes
Servings: 6-8
Ingredients
1 1/2 cups brown sugar
1/2 cup all purpose flour
1 tablespoon cornstarch
1/2 teaspoon salt
4 cups milk
2 lightly beaten egg yolks
2 tablespoons butter
2 teaspoons vanilla extract
1 (9 inch) pre-baked pie shell
1/4 cup plus more for topping butterscotch morsels
1 cup heavy cream
1/4 cup powdered sugar
Directions
In a large saucepan over medium heat, add sugar, flour, cornstarch and salt. Slowly add milk, constantly stirring until it thickens.
In a separate bowl temper 2 egg yolks by whisking in a small amount of hot mixture to bowl. Whisk in the eggs and add the butter and vanilla. Allow to cook for a few minutes.
Pour into a dish and refrigerate, allowing to cool. When ready, fill pie shell with butterscotch mixture.
Mix the butterscotch morsels into the whipped cream. Cover pie and garnish with more butterscotch morsels.
Whipped Cream:
Using a hand mixer, whip together the heavy cream and powdered sugar until light and fluffy.