Bunny Cupcakes
By
Paula Deen
JUMP TO RECIPE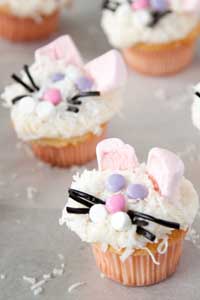 Difficulty: Medium
Prep time: 30 minutes
Cook time: 30 minutes
Servings: 18
Ingredients
2 1/2 cups all purpose flour
1/2 teaspoon salt
2 teaspoons baking powder
1/2 teaspoon baking soda
3 teaspoons divided vanilla extract
1 cup divided milk
1/2 cup vegetable oil
3 sticks room temperature, divided butter
1 cup sugar
3 eggs
3 cups shredded coconut
18 large cut in half marshmallows
36 mini marshmallows
8 cups confectioner's sugar
for whiskers black licorice laces
or jelly beans candy coated chocolate pieces
Directions
Preheat the oven to 350 °F.
In a large bowl, whisk together the flour, salt, baking powder and baking soda.
In another bowl, whisk together the 1 teaspoon vanilla extract, 1/2 cup milk and vegetable oil.
Cream together the 1 stick butter and sugar with a hand-held mixer in a large bowl. Add the eggs 1 at a time and mix to combine. Alternate the dry and wet ingredients to the egg mixture, starting and ending with the dry ingredients.
Pour the batter 2/3 full into paper lined cupcake tins and bake for 15 to 20 minutes. Remove from the oven and allow to cool before frosting and decorating.
Vanilla Buttercream Frosting:
In the bowl of a standing mixer, cream 2 sticks softened butter and confectioner's sugar, 1/2 cup milk and 2 teaspoons vanilla. Beat with paddle attachment until smooth gradually add the rest of sugar to reach frosting consistency
To Decorate:
Frost tops of cooled cupcakes with a thick layer of frosting and dip into coconut (pressing down into the coconut). Place one half of each large marshmallow on an angle for each ear (note: you might have to use a little frosting as glue). Add colored chocolate candies for eyes and nose. Add two miniature marshmallows for cheeks. Cut 6 small pieces of rope licorice for whiskers. Share with "somebunny" you love!